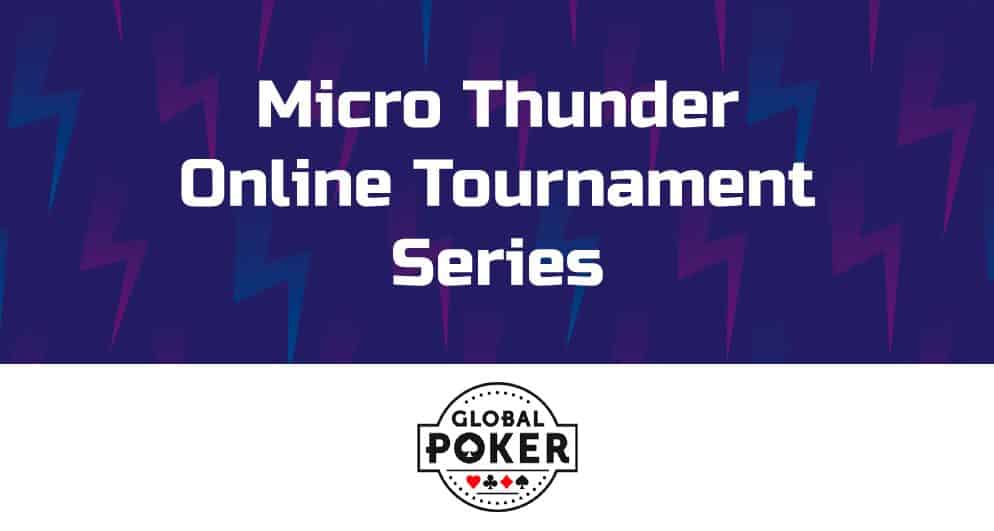 Global Poker brings you a 49-event series running from September 6-13. All micro players and small-stake online communities are invited to join this series for free.
This series will last eight days with guaranteed SC 50,000 and GC 15,000,000 wins. There will be a total of 24 GC events and 25 SC events, all concluding up to Gods of Thunder, a final event. The final table will take place on Sunday, Sept. 20 at 7:30 PM (ET),  where all winners of previous events will compete for limited-edition merchandise of Global Poker. 
The winner of Sweep Coins will be awarded an entry to the SC218 tournament along with other tickets. Additionally, the winner will receive The God of Thunder trophy and a hoodie. A 'God of Thunder' T-shirt will be awarded to every player on the final table.
For Gold Coin Gods of Thunder winner, the trophy and hoodie stay the same. And, all the final table players will get 'God of Thunder' hoodies instead of T-shirts. Plus, there is a limited-edition 'Micro Thunder' T-shirt for the players who cash in the event. There is also a hard enameled Micro Thunder pin for the final table players.
Apparently, Global Poker is showering plenty of incentives and rewards for the participants and winners of this series. The players can start with buy-ins starting from SC 1 and GC 1000, and they can win a thunderous amount. The Gold Coin events include 24 tournaments with a guaranteed total of 15,000,000 in gold chips. Whereas in the Sweep Coin events, there are 25 tournaments with a guaranteed total of 50,000 in sweep chips. 
The name of the series (Micro Thunder) derives from the same concept of small buy-ins and large prizes. To participate in the series, you can click here.
Global Poker is an innovative way to participate in poker tournaments online. It is a one-stop-shop for big online poker tournaments, casino games (along with Chumba Casino), and other championships. 
Global Poker utilizes a patented sweepstakes model to help you win real cash prizes. Apart from gold coins, sweep coin is a currency used by Global Poker which can be exchanged (1SC= $1) for real cash prizes. Every week there are big events running on the platform where you can take part absolutely free. For the new players, Global Poker offers a free $20 GC package.